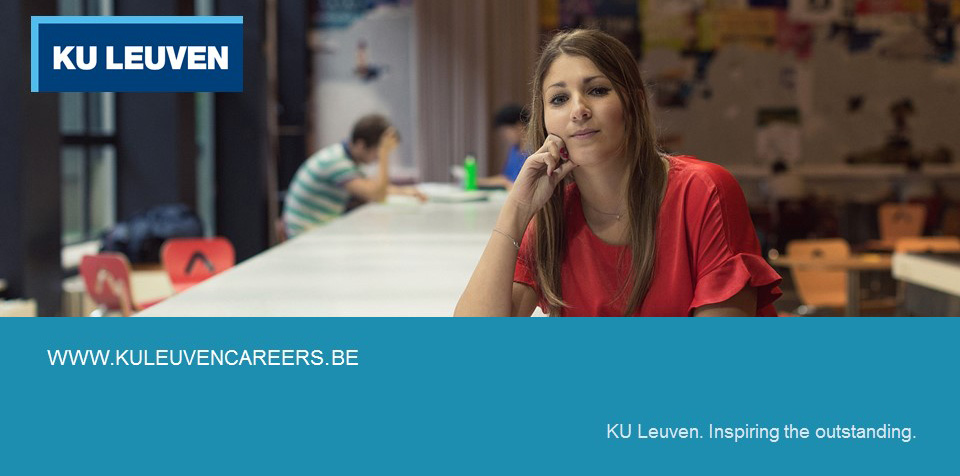 Development / Implementation of Ecological Momentary Interventions in Psychiatry
KU Leuven

| Leuven | Bepaalde duur, Voltijds
Staat 7 dagen op Jobat.be
The Center for Contextual Psychiatry (CCP) is a multidisciplinary and internationally oriented research center, widely recognized for its expertise in the design, application, and analysis of studies and clinical trials using ambulatory assessment and experience sampling
methodology in the context of mental health research. The CCP is headed by prof. Inez Myin-Germeys and currently consists of 30 researchers from diverse backgrounds (clinical and experimental psychology, psychiatry, statistics, philosophy, movement sciences). The
CCP is part of the Department of Neurosciences in the School of Medicine at KU Leuven, one of the most renowned research universities in Europe.

Development / Implementation of Ecological Momentary Interventions in Psychiatry
Functieomschrijving
The post-doc will work on two projects related to the development and implementation of Ecological Momentary Interventions for young people with psychological problems.
The first project is a project on the development of an Ecological Momentary Intervention for social withdrawal in young people with psychological problems, sponsored by Red Noses. The responsibilities of the post-doc in this study will be:
the coordination of the study developing the EMI (this will include focus groups with clinicians and young people, the development of the intervention and pilot phases to test out the different components)
to closely collaborate with the research coordinator for the daily management of the study
to supervise the PhD student working on this project
to reach out to clinicians and youth mental health facilities for collaboration in the study
to closely collaborate with the statisticians to develop network models of social behaviour and social withdrawal
The second project aims to implement an existing EMI, Acceptance and Commitment Therapy in Daily Life, in the clinical practice. The ACT-dl has been developed and tested in a clinical trial in young people in the early stages of psychosis as part of an ERC grant.
In this project, the responsibilities of the post-doc are:
to fine-tune the ACT-dl app for implementation in clinical practice (in close collaboration with clinicians and patients who participated in the RCT).
to delineate barriers for implementation and develop a strategy to overcome this.
to coordinate an implementation pilot
to collaborate with different mental health institutions for the implementation of ACT-dl
A final goals is to further develop your own line of research with papers, grant applications,...
Profiel
The successful candidate has a PhD degree in Psychology or Social/Health Sciences, Medicine, or Biomedical Sciences, with a strong interest in the development of new interventions. We are looking for a combination of a strong researcher with excellent clinical skills.
The successful candidate has good analytic and writing abilities (demonstrated by published papers), has a clear interest in mHealth or EMI's, has an interest in implementation science and has the capacity to bridge the gap between research and the clinic. Experience with
Experience Sampling Methodology is a plus as is a background in mixed-methods (i.e. quantitative and qualitative) research. Experience with mixed-effects models and network-analyses is helpful (e.g. using STATA, SAS or R). The candidate should have good command of
Dutch and English (written and oral). Motivated post-docs of all nationalities, who have the ability and desire to work in an interdisciplinary and international research environment with a strong commitment to research in psychopathology, are invited to apply.
Aanbod
Salaries for Post-docs are competitive by international standards. A contract for one year will be offered, which is renewable for another year after positive evaluation. Starting date is flexible but no later than 1 September 2019.
Solliciteer nu
Solliciteer nu
De job werd bewaard
Je kan je bewaarde jobs terugvinden onderaan deze pagina, maar ook op de homepage en in Mijn Jobat.
Wil je ze ook op andere toestellen kunnen bekijken? Meld je dan aan.
Nog 10 dagen om te solliciteren
Kenmerken
Functietype:

Wetenschapper

Sector: Wetenschap en onderzoek

Leuven

(standplaats)
Vereisten
Aanbod
Solliciteer voor
Ontvang nieuwe jobs via e-mail