Solliciteer nu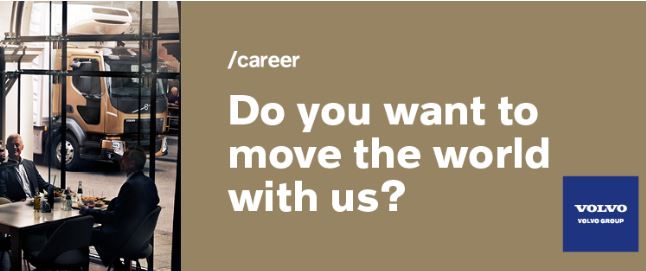 Groupsleader Logistic Engineering
Oostakker
Onbepaalde duur, Voltijds
Staat 4 dagen op Jobat.be
Groupsleader Logistic Engineering
The Volvo truck factory (E&BM) in Ghent is one of the world's biggest factory of the Volvo Group. Every day, over 2000 colleagues work together to build trucks of excellent quality. Innovation and continuous improvement are inherited in our daily operations. We believe in Lean Manufacturing, where quality, safety and environmental care are embedded as our top priority. Our site in Ghent today exists of many different departments, but one thing we all have in common: we are passionate about what we do.
Functieomschrijving
This is us, your new colleagues
Curiosity, change and transformation are sources of inspiration and energy. Within an ever changing environment we build the factory of the future. The logistic engineering department has a key role in this future by designing and optimizing
logistic processes, warehouses, delivery and packaging solutions. The team consists out of a variety of logistic specialists who work together to tackle todays and future challenges.
Do you just love to…
Are you a passionate people manager? Do you love to lead and motivate a group of highly skilled logistic engineers? Are you able to push the boundaries and make change happen?
Then you are the Groupleader Logistic Engineering we are looking for!
Some of your responsibilities :
Responsible for the daily operational leadership of the logistic engineering team.

You coach, motivate and give support where needed. You provide performance-feedback and stimulate individual & collective development with continuous learning plans.

Within the logistic management team you have a key role in developing the logistic strategy, milestones and objectives.

Together with your team, you will drive the implementation of the plant vision on logistics by setting clear and challenging goals. Where necessary you and your team will partner cross functionally to guarantee achievement of business objectives.

You are in the lead for stimulating innovation. Together with your team you develop new standards in accordance with lean manufacturing principles and support implementation in day-to-day way of working.
Profiel
Are you the one?
Master's degree (or equivalent experience)
Minimum of 10 years of experience in Logistic engineering of which at least 5 in a leading role, preferably within the automotive industry
Good knowledge of Lean manufacturing principles
Strong leader capable of setting clear expectations the team
Team player with strong interpersonal skills and a hands-on attitude  
Track record in delivering results in changing environments
Solid presentation, communication and influencing skills
Fluent in English & Dutch
Aanbod
This is your moment to shine
Are you passionate on being in the lead of change? Do you get energy out of setting goals and achieving milestones?  Is teamwork more than just a buzz word to you? Is every setback just a setup for a comeback?
Then this position is what you are looking for. A chance to work on the factory of the future!
Bereken je reistijd
Naar
Volvo Group Belgium
| Smalleheerweg 31, 9041 Oostakker
Dit adres kon niet gevonden worden.
Er kon geen route tussen de twee adressen gevonden worden.
Anderen bekeken ook
Voeg je CV toe
Jobs voor jou zal je betere jobs suggereren gebaseerd op je opleiding, vaardigheden en werkervaring.
De job werd bewaard
Je kan je bewaarde jobs terugvinden onderaan deze pagina, maar ook op de homepage en in Mijn Jobat.
Wil je ze ook op andere toestellen kunnen bekijken? Meld je dan aan.
Nog 35 dagen om te solliciteren
Vereisten
Master (Licentiaat; Universiteit of Hoger Onderwijs Lange Type)

Minstens 5 jaar ervaring
Nederlands, Engels
Gelijkaardige jobs
Ontvang per mail jobs op maat
Ontvang nieuwe 'Logistiek management' jobs in Gent meteen in je mailbox.