Apply now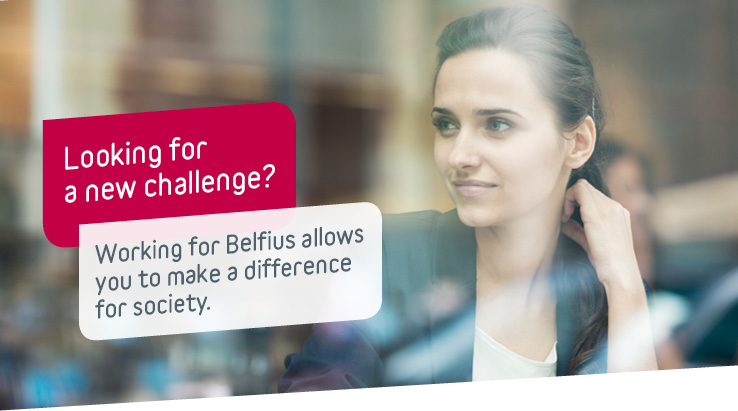 Head of Fixed Income Sales
Sint-Joost-ten-Node
Permanent, Full-time
Published on Jobat.be 10 days ago
Head of Fixed Income Sales
Belfius is the only 100% Belgian integrated bank and insurance company. Belfius provides assistance for 3.5 million personal customers, self-employed workers, professionals and SMEs. Belfius is number 1 in the public and social sector, as well as a leading partner for large corporations. And on the insurance market, Belfius plays an essential role across various channels with a range of brands.

As a friendly bank and insurance company, Belfius also aims to be the engine that drives its satisfied customers and society forward. On the footplate, Belfius employees act as the fuel and lubricants that keep the engine running. This is why Belfius is so keen to recruit committed staff who are willing to go the extra mile, who feel involved with the organisation and who want to make their own contribution.
Job description
The Fixed Income Sales Desk offers a wide range of Fixed Income products and caters for public sector customers (including the social sector) as well as institutional customers (insurers, Bank ALM, asset managers, private banks and Wealth Management).
The offering includes Multi-Fixed Income products, including money market products (certificates of deposit, repos), commercial paper, bonds and debt securities, always taking into account the risk profile and needs of the customer in order to build a long-term relationship.
The geographical focus is on Belgian and European investors, with a particular emphasis on providing investment capacity for the DCM business (bonds and CP).
The Head of Sales is responsible for the organisation and management of the Fixed Income Sales Desk. He/she represents the Desk and ensures that budgets are respected and that the predefined objectives are achieved. The aim is to make a significant contribution to the results of the WEP department and thus to the overall results of Belfius Bank. At the same time, he/she deals with customer satisfaction and our franchise by making sure that the sales team builds and maintains long-lasting relationships with customers.
The Head of Sales works closely with the other Heads of Capital Markets (DCM, ECM, Syndication), but also with the other Financial Markets teams, with the ultimate goal of strengthening the overall product offering, increasing the placement capacity and enhancing the added value of Belfius for its customers.
Main tasks:
Organisation/coordination: the Head of Sales is primarily responsible for leading the sales department and supervising the activities of the sales staff and the overall performance of the department. He/she defines the KPIs and business objectives and communicates them regularly to the sales staff. He/she also analyses market behaviour patterns and defines strategies on that basis in order continuously to optimise the business' commercial performance.

Strategy: the Head of Sales supervises and manages the Fixed Income Sales Desk in accordance with the defined commercial strategy.

Leadership/supervision/personnel management: the Head of Sales leads the Sales department. He/she sets weekly/monthly/annual and seasonal sales targets for the department, looking for growth opportunities and ways to increase sales and further develop the product offering. He/she is also responsible for the performance of the department against the set targets. The Head of Sales coaches and motivates his/her team, and ensures that team spirit and performance within the department are increased in a sustainable manner. This is achieved by setting individual and collective objectives, organising regular debriefings and team meetings, and encouraging team members to adopt a positive attitude, as well as setting personal objectives in the exciting environment of a dealing room.

Risk management/MiFID/project management: the Head of Sales ensures compliance with regulations in order to avoid financial and reputational risks, in particular the guidelines and framework regulations defined by the Corporate Office and the Legal, Compliance and Risk Management departments. Within the context of internal and external projects, the Head of Sales organises the contribution of the sales team, ranging from active to more passive participation, in line with predefined objectives and the expected input of the sales staff.

Collaboration: the role of the Head of Sales is collaborative. He/she talks to the Structuring and Trading Desks to analyse customer needs and market trends. He/she also works closely with the Syndication and Origination teams on issuance and placement activities (mandates and reverse inquiries). Finally, he/she also works closely with the Corporate Office, especially with regard to MiFID regulation and the general implementation of important projects.

Customer relationship management: the Head of Sales defines a coherent strategy in consultation with the other members of the sales team. He/she encourages the sales team to be proactive in pitching to customers and cross-selling, as well as building strong customer relationships and maximising customer satisfaction, with a view to capturing potential business opportunities and developing long-term relationships. He/she also manages the department's calendar, focusing on priorities, including campaign activities to maximise sales opportunities.

Knowledge/networking/opportunities: the Head of Sales guides and stimulates the sales staff in building close relationships with customers and in organising seminars and sales events. He/she is constantly on the lookout for opportunities in the Sales and Revenue area and closely follows best practices and market trends in order to stay ahead of the competition and to achieve better results.
Profile
university degree,

specific skills and experience:
*strong analytical skills to translate data into a sales approach and strategy,
*preferably at least ten years of professional experience in an executive and/or Head of Sales role in a fast-paced, dynamic business environment,
*in-depth knowledge of the customer, the consumer, the competitive market and sufficient insight to analyse the performance of the sales department.
commercial aptitudes:
*very strong commercial orientation,
*customer focus,
*strong persuasive and negotiation skills,
*focus on closing deal,
*ability to increase Belfius' market share further.
personal and leadership skills:
*ability to lead a group of sales people in a fast-paced environment,
*ability to implement change, both in sales and customer relations and in internal business processes,
*a strong motivator with excellent team spirit and problem solving skills,
*honesty, integrity, reliability, flexibility and creativity, 
*taking the initiative to enable the team, and Belfius in general, to develop the Fixed Income business further,
*ability to make presentations.
knowledge (both written and oral) of French, Dutch and English. Knowledge of German would be a great asset.
Offer
At Belfius, we aim to be Meaningful & Inspiring for Belgian society and you can help us to make a difference.
We attach a great deal of importance to ensuring that all of our employees are able to combine their home life with work. For instance, our corporate culture is based first and foremost on trust and independence and so we have introduced a hybrid way of working called "Home Based". Home Based focuses on achieving a healthy balance between teleworking and working on-site at the office. As a new employee, you are automatically hired with this status. In practical terms, this means you will work from home for the majority of your working hours, combining working from home with being present in the workplace – i.e. at our head office or in a regional office, depending on the needs of your department. This method is also designed to maintain good collaboration with your boss

, your colleagues and your transversal contacts, etc.
Our head offices and regional offices are easy to reach by public transport. If you are coming into the office to work, why not start your working day at head office with a training session at Belfius Workout, the fitness space made@belfius? At midday, enjoy a health lunch in one of our company restaurants or in The Village, where you can also hold informal meetings with colleagues over a coffee or a small bite to eat.
Take control of your career and use the individual development opportunities provided by the Belfius Academy. As an employer, we are pleased to invest in the development of leadership. Other values that we believe to be important are diversity and equal opportunity.
We also offer you an attractive salary package, part of which you can put together to meet your own needs. In addition, you'll enjoy numerous fringe benefits, such as group insurance, hospitalisation cover, meal vouchers and season tickets on public transport, plus discounts on banking and insurance products, etc.

Calculate your travel time
To
Belfius Bank & Verzekeringen
| Karel Rogierplein 11 , 1210 Sint-Joost-ten-Node
This address could not be found.
We could not find a route between the two addresses.
Others also viewed
Add your CV
Jobs for you will suggest better jobs based on your education, skills and work experience.
The job was saved
You can find your saved jobs on the homepage or in My Jobat.
To view them on other devices as well, just log in.
29 days left to apply
Requirements
Master (University or Higher Education Long Type)

At least 5 years experience
Dutch, English, French, German
Offer
Permanent

Full-time

Group insurance
Company car
Meal vouchers
Laptop
Individual hospital insurance
Family hospital insurance
Public transport contribution
Wedding
Eco Cheque
Training
Remote work
Similar jobs
Receive new 'Executive board & management' jobs in Brussels straight to your mailbox.