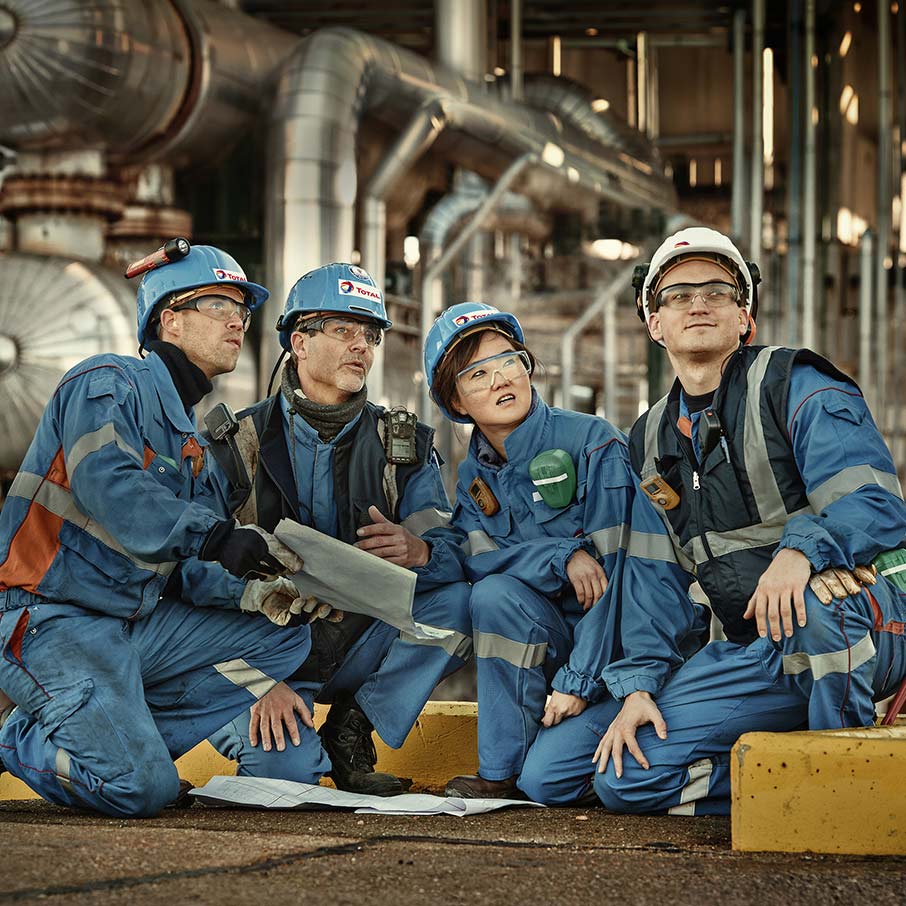 Ingénieur Procédés Pétrochimique (Vapo) H/F
Total

| Multiple regions | Permanent, Full-time
Published on Jobat.be 29 days ago
BETTER ENERGY NEEDS YOU
Donnez le meilleur de vous-même à l'énergie ! Rejoignez TOTAL : plus de 500 métiers différents dans 130 pays. Une entreprise responsable avec des standards de sécurité et d'éthique forts, des perspectives d'évolution de carrière variées, une culture de l'innovation et une mission partagée par les 100.000 collaborateurs du Groupe : rendre l'énergie meilleure jour après jour.
Ingénieur Procédés Pétrochimique (Vapo) H/F
Job description
Au sein d'une équipe de 12 personnes, vous intervenez sur les missions suivantes :

Coordination

Vous assurez la coordination du site en vous assurant également que ce dernier suit l'implémentation des solutions proposées. Vous allez vous habituer à suivre les performances des unités et tenter d'identifier des améliorations en terme de disponibilité, énergie ou optimisation.

Troubleshooting

Répondre aux demandes de troubleshooting et apprendre à les anticiper en utilisant toutes ressources nécessaires au sein de HELP et de la Direction Industrielle est indispensable. Vous assisterez aux Comités Techniques, BAIT, RCA et Business Review du site en utilisant votre connaissance du site et ce que peut offrir la Direction Industrielle pour challenger les solutions techniques proposées par le site.

Support

Avec l'aide de votre mentor et de sa hiérarchie, vous assurerez la coordination à tous les niveaux dans l'organisation de la raffinerie (de l'opérateur au Directeur Général) afin de garantir le support nécessaire aux sites ou d'influencer le site et de remplir les objectifs de disponibilité, énergie et de rentabilité.

Qualité

Vous veillez à la qualité des RCA's sur les événements majeurs en vous assurant que les causes fondamentales aient bien été identifiées, que le support des experts de la Direction Industrielle soit adéquats, et que les actions identifiées adressent bien les causes techniques et fondamentales.
Vous disposerez des appuis nécessaires de votre hiérarchie et de vos collègues pour exercer votre capacité d'influence dans le but d'atteindre les objectifs fixés par le site.
Profile
Vous êtes issu(e) d'une formation d'Ingénieur avec une expérience de 8 à 10 ans, dont au moins 3 ans en usine, et avec une première expérience de Troubleshooting. Vous faites preuve de prise de recul pour faire avancer les projets tout en sachant gérer les priorités. Vous avez une compréhension des domaines technologiques, de l'expérience en Pétrochimie notamment en vapocraquage et vous êtes prêt à vous déplacer régulièrement
S'adapter aux différents interlocuteurs et sujets de l'usine en montrant vos capacités d'organisation, de coordination et de communication sont des atouts de votre profil. Une maîtrise de l'anglais ainsi que du français est indispensable.

Rejoignez-nous, donnez le meilleur de vous-même à l'énergie responsable !
Offer
Nous offrons:
* La possibilité de participer à des projets de grande envergure et de prendre des responsabilités dans un groupe de taille mondiale, qui applique la technologie de pointe.
* Une évolution de carrière attrayante permettant de vous plonger dans un nouveau job, une nouvelle activité et une nouvelle culture.
* Une formation permanente.
* Un salaire compétitif et une large gamme d'avantages extra-légaux.
Apply now
Apply now
The job was saved
You can find your saved jobs on the homepage or in My Jobat.
To view them on other devices as well, just log in.
10 days left to apply
Characteristics
Function type:

Production process responsible

Sector: Chemistry and Pharmacie

Walloon Brabant

Luxembourg

Liège

Namur

Hainaut
Requirements
Master (University or Higher Education Long Type)

English, French
Offer
Apply before
Receive new jobs by e-mail