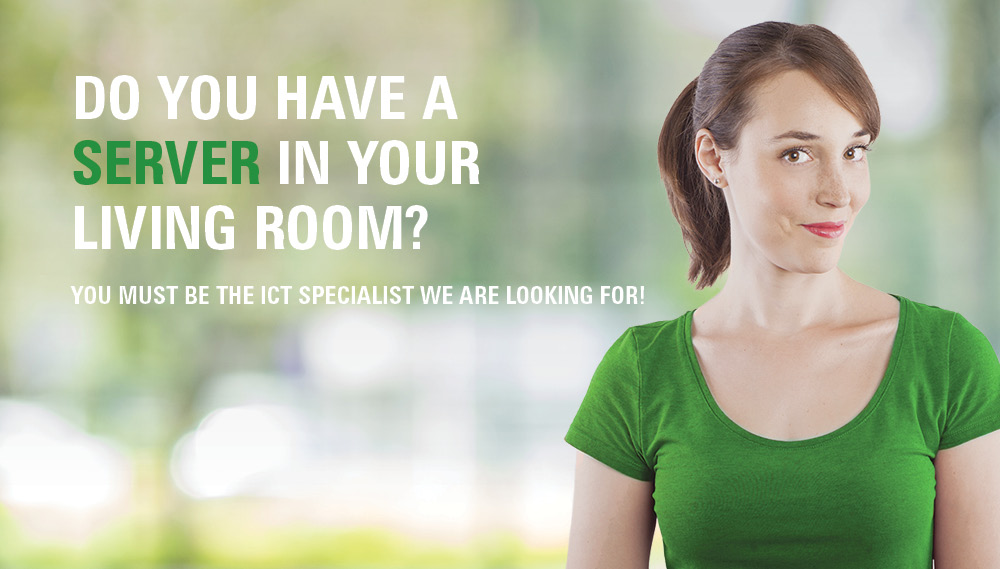 .NET Developer
Realdolmen

| Multiple regions | Permanent, Full-time
Published on Jobat.be 11 days ago
An employer you really want to work for!
Not only is Realdolmen a no-nonsense, solid, stable and experienced company with great in-house knowledge and expertise, but we also put our employees first: every individual receives the attention they need. 'Heart for People' is more than just words for us – it's one of our very core values.
Satellite offices, extensive training opportunities, work-life balance, competence reviews and career opportunities: these are no empty promises for us. Our organization attaches great importance to diversity. We guarantee an objective selection process, whereby candidates are tested and selected solely on the basis of their qualities and skills.
With us it's all about you!
.NET Developer
Job description
Are you passionate about creating applications? Do you want to help the business work more efficiently and provide better services? If the answer is yes, Realdolmen certainly has multiple challenging projects for you!
Through functional and technical analysis, you will get to figure out just what the client needs and turn that into a concrete solution. As a .NET Software Engineer, you will be playing a key role in building, testing, maintaining and recommending software improvements to ensure strong functionality and optimization.
For this function, you are mainly working at customer's premises and there might be options to work from our Realdolmen offices (Ghent, Kontich, Huizingen, Heverlee, Lummen or Mons) or from home.
Profile
Are you…
An experienced .NET developer with a real passion for C#?
Familiar with the difference between .NET Framework, .NET Core and .NET Standard?
Right at home with acronyms like ASP.NET MVC, WPF, WCF, EF and TFS? Familiar with Angular?
Working the Agile way?
Used to writing SOLID or REST in uppercase?
Seeing design patterns in every situation?
Fluent in Dutch and English?
Not scared of bugs?
You get bonus points if…
You are familiar with React or Vue.js;
You know about Cloud & Microsoft Azure Development;
Your colleagues would describe you as a driven and enthusiastic team member who always wants to discover new technologies.
If that's you, come in and have a talk with us!
Offer
The opportunity to have a meaningful job where you can make a difference;
The chance to continuously evolve as a professional, coupled with a variety of training opportunities;
Relevant career opportunities to get you where you want to be, with the IT knowledge you need;
Become a part of our very own Microsoft community where all .NET Consultants can share their passion and knowledge with others. Connect with great minds and stay ahead of the game with our technical afternoons, devlabs, evening sessions, external conferences like Techorama, hackathons… and much more!
Realdolmen wants you to find a balance between work and private life by offering flexible hours, satellite offices and home working;
32 days of annual leave, because life isn't all about working;
Forget about the miles: we provide you with a company car and a national fuel card;
Group insurance and hospitalization insurance, because we care about you;
And of course, we also offer a gross salary. One which is optimised from a NET perspective for our employees!
More info
Interested? Questions? Recommendations? For more information, contact our recruiter directly via mail, phone or WhatsApp:
lien.michiels@realdolmen.com
or 0472 45 02 60.
Apply now
Apply now
The job was saved
You can find your saved jobs on the homepage or in My Jobat.
To view them on other devices as well, just log in.
49 days left to apply
Characteristics
Function type:

Application development

Sector: ICT, Telecom and Internet

Western Flanders

Eastern Flanders

Antwerp

Limburg

Flemish Brabant

Brussels

Walloon Brabant

Luxembourg

Liège

Namur

Hainaut
Offer
Permanent

Full-time

Group insurance
Company car
Petrol card
Individual hospital insurance
Apply before
Receive new jobs by e-mail