Solliciteer nu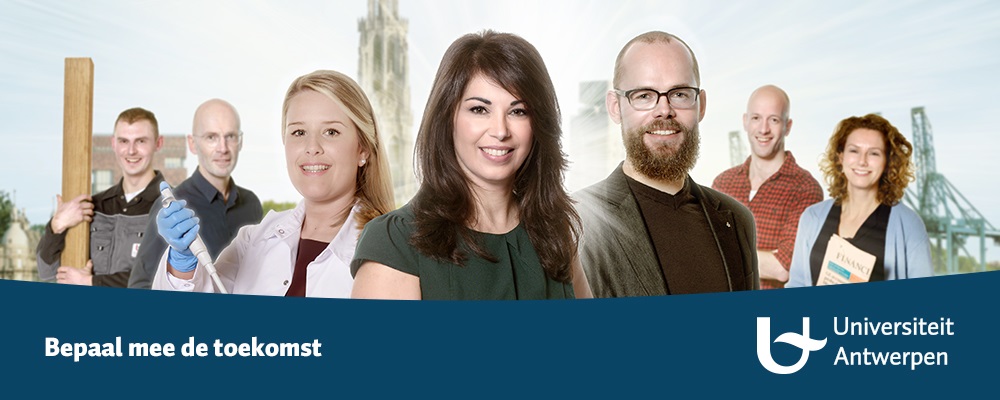 Technology Architect - Oracle Financials
Campus Middelheim, Middelheimlaan 1 - 2020 Antwpern
Onbepaalde duur, Voltijds
Staat 50 dagen op Jobat.be
Technology Architect - Oracle Financials
Let's Shape the Future – University of Antwerp
The University of Antwerp is a dynamic, future-oriented university offering innovative academic education to over 20 000 students, conducting groundbreaking scientific research and providing important services to society. With more than 6000 employees from 100 different countries, we are shaping the world of tomorrow, one day at a time. Together, we push boundaries and plot a course into the future. You can help decide what that course will be.
The university is faced with major ICT challenges. An impressive ICT infrastructure and a wide range of applications allow both students and staff across 4 campuses and 9 faculties to work in optimal conditions. In the ICT Department, 100 colleagues join forces every day to make sure ICT services run smoothly, focussing on innovation and developing future-proof solutions that support the university in realising its ambitions.
For its Infrastructure and Communication unit, the ICT Department of the University of Antwerp is looking for a full-time Technology Architect - Oracle Financials
Functieomschrijving
You will act as a liaison between the Finance Department and the EBS (E-Business Suite) team. The EBS team is in charge of the various applications, interfaces and web services used for the financial management of the university. This includes the PO/AP/PA/AR/GL/FA/iExpense and iProc modules of Oracle EBS, as well as the use of Oracle Forms and Reports and Oracle Application Framework.
Based on your technical expertise and your growing affinity with your client's business, you will help shape the policy of the ICT Department. Specifically, you will play an important role in the development and implementation of a vision on the current and future use of the Oracle Financials environment.
With the existing strategic objectives in mind, you will set up a clear architecture with maintainable solutions, in a way that best meets the organisation's needs. In order to achieve this, you will not only stay abreast of best practices in the sector, but also regularly engage in dialogue and consultation within the organisation.
You will provide functional and technical direction to your 11 colleagues in the EBS team, working closely together with them. In cooperation with the manager of the EBS team, you will coordinate ongoing projects, from concept via planning to implementation, and monitor the results. You will also supervise upgrades, improvements and integrations.
Thanks to your technical background, you are able to contribute to conversations with your colleagues and challenge them in terms of content. You will provide coaching, thereby creating an impact on your team's further development and achievements.
As a strategic partner, you will develop a successful long-term collaboration with your colleagues in the Finance Department, always ensuring high-quality service.
You will participate in the team's continuous reflection about further professionalisation and operational efficiency of the service.
You will report to the manager of the EBS team.
Profiel
You have a passion for IT and a drive for technological innovation and development. ?
Ideally, you combine a Master degree (or equivalent experience) with expertise in Oracle's setup and architecture. Knowledge of PL/SQL, Java, XML and Apex is definitely a plus.
You are experienced in defining business and user requirements.
You have strong conceptual and problem-solving skills.
You are familiar with project management and project-based work, with attention to efficiency and deadlines.
You are an experienced and hands-on team player who likes to engage in dialogue. You are able to express and explain technological concepts and methods in a clear, understandable way.
You have a service-oriented attitude and like to participate in continuous reflection as a strategic partner.
You can express yourself fluently in Dutch and English, both verbally and in writing.
You are willing to work outside normal office hours when required.
Aanbod
a fascinating technical position at a university that is in constant development, giving you the room to challenge yourself and develop your skills continuously. In addition to instructive "sparring sessions" with colleagues, we also offer numerous training opportunities;
an attractive remuneration package (pay scales 9.1-11.1) in line with your skills, complemented by numerous benefits such as public transport and bicycle allowances, meal vouchers, eco vouchers, and group insurance. More information about our pay scales and benefits can be found here on our website;
flexible working hours and lots of holidays (40 days + 1 week collective leave when the university is closed, between Christmas and New Year), so you can find a good work-life balance;
a permanent employment contract.

Bereken je reistijd
Naar
Anoniem
| Antwerpen 2020
Dit adres kon niet gevonden worden.
Er kon geen route tussen de twee adressen gevonden worden.
Een exact adres is niet beschikbaar voor deze job. Daarom kan het zijn dat de berekende reistijd afwijkend is in werkelijkheid.
Anderen bekeken ook
Voeg je CV toe
Jobs voor jou zal je betere jobs suggereren gebaseerd op je opleiding, vaardigheden en werkervaring.
De job werd bewaard
Je kan je bewaarde jobs terugvinden onderaan deze pagina, maar ook op de homepage en in Mijn Jobat.
Wil je ze ook op andere toestellen kunnen bekijken? Meld je dan aan.
Nog 10 dagen om te solliciteren
Vereisten
Master (Licentiaat; Universiteit of Hoger Onderwijs Lange Type)

Nederlands, Engels
Gelijkaardige jobs
Ontvang per mail jobs op maat
Ontvang nieuwe 'It-architectuur' jobs in Antwerpen & Haven meteen in je mailbox.