Solliciteer nu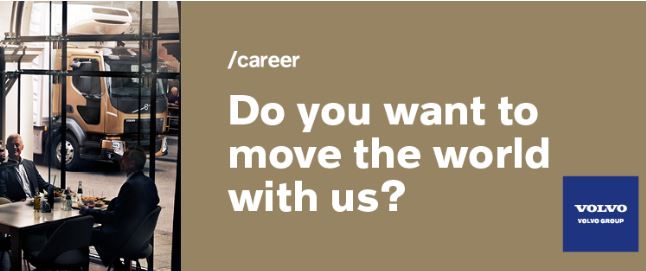 Data Scientist - Uptime Monitoring Center
Oostakker
Onbepaalde duur, Voltijds
Staat 18 dagen op Jobat.be
Data Scientist - Uptime Monitoring Center
Introduction
Technical Dealer Support (TDS) is the first line support department for our markets and dealers globally. With a strong focus on technical enquiries, remote diagnostics and connected services, we ensure that our customers are offered a premium service and are helped in time. Using the latest technologies, we guarantee the improvement of internal processes and stay up-to-date with our service deliveries. We nurture intrapreneurship and personal development, offering plenty opportunities to grow within the organization.
Functieomschrijving
This is us, your new colleagues
The Monitoring Center resides within the Volvo Trucks organization and stands for a creative development hub of aftermarket services related to Remote Diagnostics and Big Data analytics, close to our customers. Perceived by many as a scale-up within the Services area, we nurture empowerment and enthusiasm as key ingredients for building customer success.
Do you just love to…
You are part of the Truck Monitoring department, which delivers higher vehicle Uptime to Volvo Trucks customers through our real time monitoring service.  The service offer is based on the latest digital, wireless communication technologies.

You take full responsibility for all steps of an analytics assignment, from data & business value exploration, data structuring, modeling, problem solving and consulting and recommendation.

You maintain and optimize current algorithms and data models, and actively find new solutions to approach big data in relation to fault code patterns and preventative component failures.

You work and experiment with state-of-the-art data processing and machine learning technologies and work in collaboration with other scientists and engineers across the Volvo Group to design and build creative solutions to challenging data problems
Profiel
Are you the one?
You have a M.Sc. degree in Mathematics, Computing Science or Statistics.

You have at least 5-year experience in working with advanced analytics, preferably in automotive.

You master following tools and language: R, Python, SPSS, SQL, Jupyter, Qlik/Tableau, Git/GitHub

You have a great interest in automotive technologies and connected services.

You have good collaboration, communication and facilitation skills. Experience as a team lead or driving force in data analytics projects is an asset.

You are an enthusiastic team player with a can-do, start-up mentality.

You have a natural feel for continuous learning and personal involvement.

You possess the drive to contribute to the development of a state-of-the-art products in the VT portfolio.
Aanbod
A perfect match
The opportunity to work in global and dynamic organization with highly skilled colleagues

A working environment that truly believes in customer success, trust, passion, performance and change

Regular opportunities for training and education to develop yourself continuously

Flexible working hours, extra days off, a company restaurant, initiatives concerning health and wellbeing

A competitive payment based on your experience & competences that will develop depending on your input and performance

Extralegal benefits like meal vouchers, health and group insurance, possibility for car and bicycle lease, and many more
Let's do this!
Ever felt like joining a scale-up with a truly global scope, developing next-gen transport solutions for trucks, boats, buses, machines... then this is your moment!
Bereken je reistijd
Naar
Volvo Group Belgium
| Smalleheerweg 31, 9041 Oostakker
Dit adres kon niet gevonden worden.
Er kon geen route tussen de twee adressen gevonden worden.
Anderen bekeken ook
Voeg je CV toe
Jobs voor jou zal je betere jobs suggereren gebaseerd op je opleiding, vaardigheden en werkervaring.
De job werd bewaard
Je kan je bewaarde jobs terugvinden onderaan deze pagina, maar ook op de homepage en in Mijn Jobat.
Wil je ze ook op andere toestellen kunnen bekijken? Meld je dan aan.
Nog 21 dagen om te solliciteren
Vereisten
Master (Licentiaat; Universiteit of Hoger Onderwijs Lange Type)

Minstens 5 jaar ervaring
Engels
Gelijkaardige jobs
Ontvang per mail jobs op maat
Ontvang nieuwe 'Onderzoek & ontwikkeling' jobs in Oost-Vlaanderen meteen in je mailbox.