Solliciteer nu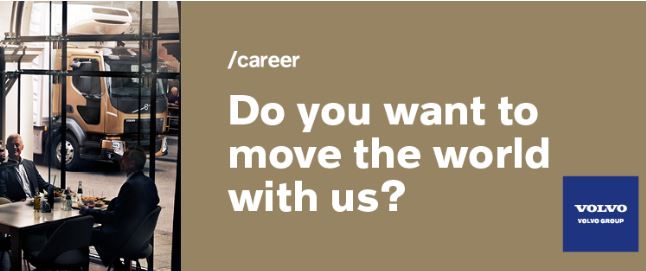 Customer Service Support
Languages
Oostakker
Interim, Bepaalde duur, Voltijds
Staat 13 dagen op Jobat.be
Customer Service Support
Volvo Group Belgium is a part of our Swedish mother company Volvo Group. We are one of the world's leading manufacturers of trucks, busses, construction equipment and marine- and industrial engines. We have facilities in 18 countries and represent our products is more than 190 markets.
Functieomschrijving
Introduction
Volvo Action Service at Volvo Trucks takes care of Volvo customers across Europe, by getting them back on the road, whenever they experience a breakdown of their vehicle.
We follow up the status of the breakdowns and negotiate solutions to logistic and technical problems. We strive for customer success, and take problem solving to the next level.
Our European offices are located in Ghent (Belgium), Rugby (United Kingdom). Our colleagues come from all over the world, and we offer a 24/7 customer support, for more than 16 different languages.
 
This is us, your new colleagues
You will work in a fast-paced dynamic environment with colleagues from all over the world, it is a multi-cultural workplace where your team is your family away from home.
 
It is an international culture where we respect each other's values and share the same Volvo vision. Ghent is the largest division of the two sites were most staff work shifts.
 
Do you just love to...
Our main focus is delivering the ultimate experience for our customers during their breakdown and give them a long-lasting impression of our brand.
 
As an Uptime Coordinator you will go the extra mile and communicate between the customer, driver and dealer to find solutions to get the vehicle back on the road.

You will manage these breakdown cases all over Europe in the customers native language and handle essential information within our designated systems. 
 
You always focus on the customer needs and follow the defined breakdown process.
 
For handling these cases you need to be the key communicator between the parties involved in the breakdown and be responsible to find suitable solutions for the driver.
Profiel
Are you the one?
Customer orientated
Positive attitude, highly motivated and strong communication skills
Eager to share and learn and exceed expectations at every opportunity
Support your team to develop your knowledge and embrace the Volvo culture
Willing to work in a flexible shift system
Fluent in English and one of following combinations 

German, French and Dutch 
French and Portuguese and Spanish 
Swedish and Finnish 
Polish and/or Russian and/or Czech (2 of the 3 languages) 
If you are not open for a shiftsystem, for the position with German, we have other options in daytime aswell. 
Let's do this!
Are you a team player, passionate about customers and our brand, stress resistant with good communication skills? Then Volvo is the place to be where you can develop a career within a world known and respected brand.
Come and join our international team! Want to get to know our business first? Check out our video 

https://www.youtube.com/watch?v=hv5-38Dje9E&t=14s
Aanbod
A perfect match?
Competitive salary, with meal vouchers, transport costs, shift allowance, etc.
Well-being services
Restaurant on site
Opportunity to grow within the company
Good work life balance
International environment
Bereken je reistijd
Naar
Volvo Group Belgium
| Smalleheerweg 31, 9041 Oostakker
Dit adres kon niet gevonden worden.
Er kon geen route tussen de twee adressen gevonden worden.
Anderen bekeken ook
Voeg je CV toe
Jobs voor jou zal je betere jobs suggereren gebaseerd op je opleiding, vaardigheden en werkervaring.
De job werd bewaard
Je kan je bewaarde jobs terugvinden onderaan deze pagina, maar ook op de homepage en in Mijn Jobat.
Wil je ze ook op andere toestellen kunnen bekijken? Meld je dan aan.
Nog 47 dagen om te solliciteren
Vereisten
Professionele Bachelor (Hoger Onderwijs Korte Type)

Tsjechisch, Nederlands, Engels, Fins, Frans, Duits, Portugees, Russisch, Spaans, Zweeds, Pools
Aanbod
Interim

Bepaalde duur

Voltijds
Gelijkaardige jobs
Ontvang per mail jobs op maat
Ontvang nieuwe 'Customer service' jobs in Gent meteen in je mailbox.