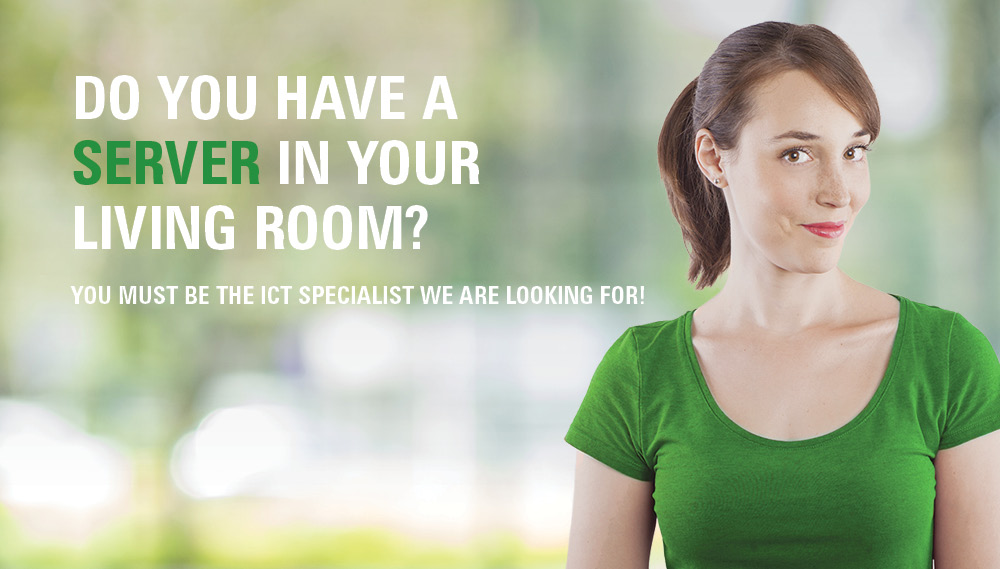 Azure Consultant
Realdolmen

| Meerdere regio's | Onbepaalde duur, Voltijds
Staat 11 dagen op Jobat.be
An employer you really want to work for!
Not only is Realdolmen a no-nonsense, solid, stable and experienced company with great in-house knowledge and expertise, but we also put our employees first: every individual receives the attention they need. 'Heart for People' is more than just words for us – it's one of our very core values.
Satellite offices, extensive training opportunities, work-life balance, competence reviews and career opportunities: these are no empty promises for us. Our organization attaches great importance to diversity. We guarantee an objective selection process, whereby candidates are tested and selected solely on the basis of their qualities and skills.
With us it's all about you!
Azure Consultant
Functieomschrijving
Are you the Technical Consultant of our dreams? If you could tell us about the Microsoft range in you sleep, you know everything about Microsoft Azure Infrastructure-as-a-Service and you have experience with these products offers, you may just be!
Join us to play a key role in our Hybrid Cloud team. With Microsoft technology, you'll get to turn our clients' data centres into dynamic hybrid clouds! And you'll get to tell us which scenarios and workloads can be migrated to Microsoft Azure, and to operate them within the context of the hybrid cloud. But this also applies within the context of the hybrid cloud.
What you'll get to sink your teeth into…
Our Hybrid Cloud team designs and builds solid infrastructure for our clients' applications, be it onsite, in the public cloud or in a hybrid environment. You'll get to be involved in a range of capacities:
You'll be at the wheel for our cloud roadmaps. Which makes sense, because nobody knows the Azure platform as well as you do. You'll take charge of discussions, workshops and brainstorming sessions with our clients, and you'll sum up your advice in a cloud roadmap document. You'll also deliver proof of concepts and pilots to demonstrate that your proposals are valuable and technically feasible.
You'll champion the benefits of the Cloud, certainly, but you'll also discuss the challenges, risks and pitfalls. Clients expect that from a company with a no-nonsense culture like Realdolmen.
You'll play an important role in all stages of a project's lifecycle:

During the planning stage, you and your closest colleagues will get to create, test and validate hybrid Cloud designs.
During the building stage, you'll get to handle the implementation yourself or to lead your colleagues. Of course, you'll then get a chance to apply yourself to the Azure parts of projects too. Thanks to your documentation, the Operations Team will then be able to effortlessly take over from you.
During the operations stage, you'll be providing 3rd-line support for the clients and the Realdolmen Operations Team.

You'll be contributing to our best practices and guidelines. If you enjoy sharing your knowledge with your colleagues, you'll fit right in.
You'll get to participate in our presales activities with demos, presentations, designs and proposals.
Profiel
Do you have this knowledge and these skills under your belt?
Do you have solid and extensive knowledge of IT data centre infrastructure in general? Is navigating medium to large IT environments a breeze for you, thanks to your broad knowledge of IT concepts, technology and products?
Do you have over three years of experience as a system engineer with Microsoft technology such as Windows Server, Hyper-V, Active Directory, System Center, SQL Server and Storage Spaces?
Do you know the Azure Infrastructure-as-a-Service platform inside-out? And do you have a good, up-to-date grasp of the individual Azure components?
Do you know just how to integrate the Azure components in a hybrid context? Even in complex scenarios like disaster recovery, high availability, backup and migrations?
Do you know just how valuable the different Azure Infrastructure-as-a-Service components are?
Are you able to create designs that match your client's business and technical goals?
Extra points if you have these too:
Microsoft certifications
Knowledge of other Cloud platforms such as Amazon or Google
Knowledge of the Docker ecosystem
Does this sound like you?
You're technically skilled and like to always keep up with new and relevant technology, and find new add-ons you can use.

You like to keep your work well-documented, clear and to the point.

You're quite the orator, and you don't shy away from giving presentations or training courses.
You know how to take discussions with clients in the right direction.
You like to weigh up all options to figure out their strengths and weaknesses.
You always put the client first.
You're flexible.
You're a real team player, but you also get on just fine on your own.
You're always up for sharing your knowledge with your colleagues.
You know your languages:

Dutch or French is your mother tongue. At the very least, you have a basic understanding of the other national language.
You also speak English.
Aanbod
The opportunity to have a meaningful job where you can make a difference
The chance to continuously evolve as a professional, coupled with a variety of training opportunities
Relevant career opportunities to get you where you want to be, with the IT knowledge you need
Realdolmen wants you to find a balance between work and private life by offering flexible hours, satellite offices, home working and an informal no-nonsense environment
32 days of annual leave, because life isn't all about working
Forget about the miles: we provide you with a company car and a national fuel card 
Group insurance and hospitalization insurance, because we care about you
And of course, we also offer a gross salary. One which is optimised from a net perspective for our employees!
Solliciteer nu
Solliciteer nu
De job werd bewaard
Je kan je bewaarde jobs terugvinden onderaan deze pagina, maar ook op de homepage en in Mijn Jobat.
Wil je ze ook op andere toestellen kunnen bekijken? Meld je dan aan.
Nog 49 dagen om te solliciteren
Kenmerken
Functietype:

Consulting

Sector: ICT, Telecom en Internet

West-Vlaanderen

Oost-Vlaanderen

Antwerpen

Limburg

Vlaams-Brabant

Brussel

Waals-Brabant

Luxemburg

Luik

Namen

Henegouwen
Aanbod
Onbepaalde duur

Voltijds

Groepsverzekering
Bedrijfswagen
Tankkaart
Individuele hospitalisatieverzekering
Solliciteer voor
Ontvang nieuwe jobs via e-mail