Postuler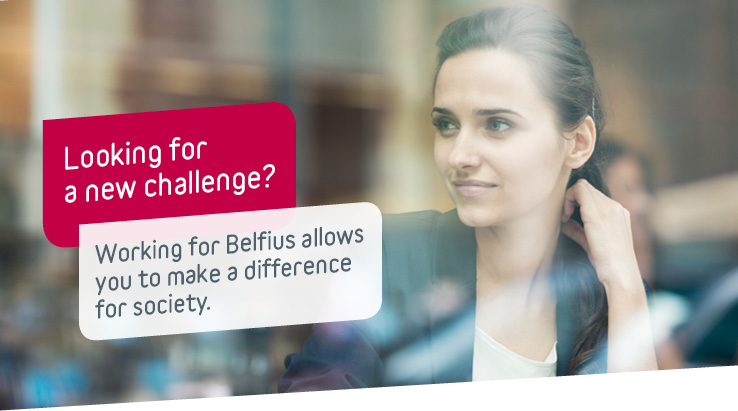 Quantitative Analyst Market Validation
Saint-Josse-ten-Noode
Durée indéterminée, Temps plein
En ligne depuis 12 jours sur Jobat.be
Quantitative Analyst Market Validation
Put business start-ups on the way to their first successes, help private individuals realize their housing dreams, support entrepreneurs in their companies' growth… Those who work with Belfius play an important part in society. Each one of our employees is an expert who, each in his own way, contributes to our customers' projects and satisfaction.
Working with Belfius is not just personally rewarding. It is also about playing your part in the future of our society.
Description de la fonction
Belfius Bank is looking for someone to join its Market Validation team. This is a newly created position that comes into effect in 2022 to supplement a team that already has three members.
The team has the responsibility of checking the quality of the mathematical models developed by the dealing room to value the products it handles and to manage the risks involved.
Guaranteeing this quality is essential for the bank, given the financial stakes linked to market activities: even a small error can cause losses running into millions of euros.
"Market" models are very complex. Mastering them requires highly developed mathematical skills, including stochastic calculus and advanced numerical methods. A validator also needs to understand the various markets on which the dealing room is active (rates, inflation, shares, forex, etc.), as well as the products being traded (swaps, futures, options, etc.) and to keep abreast of regular developments in modelling techniques. Finally, programming skills are required so that the models proposed can be replicated and tested.
Validation provides the ideal environment for developing and extending "market" modelling skills and knowledge. The technical level required is the same as that required for developing and the work provides time for reflection: you have to be able to fully understand the strengths and weaknesses of the models proposed and to compare them with possible alternatives. 
To fill this position, the bank is looking for a junior or moderately experienced member of staff. Previous experience (2 or 3 years) in the field of "market" modelling would be an advantage but is not totally essential provided the candidate is able to show that his or her background and personal capabilities will enable him or her to rapidly acquire the skills needed. The same applies to the programming languages involved: knowledge of C++, R or Python would be a plus, but again this is not a deal-breaker if the candidate is experienced in other languages.
The person we are looking for must also display an ability to become part of the Market Validation team and, more broadly, of the Validation department, where operations are characterised by:
high standards, both technically and in terms of personal commitment;

an organisation based on trust that encourages autonomy and initiative;

an interest for new ideas;

a collaborative mindset;

particular attention paid to the quality of human relationships.
In practical terms, our new validator will be required to:
Validate each model put forward. This involves:

examining the proposed methodology;

ensuring that the model is in line with intended purposes and complies with regulatory requirements;

analysing its strengths and weaknesses;

verifying its implementation;

giving an opinion as to its acceptability and proposing ways of making improvements;

interacting with the various stakeholders (developers and market risk teams) to obtain the required information, then sharing with them the conclusions;

documenting his or her work and conclusions, as well as presenting them to the management.

Contribute to the thought process about the organisation and optimisation of the development and validation processes.
Profil
Master's degree in engineering, mathematics, actuarial science or physics. A PhD is an advantage.

Previous experience with modelling or validation is an asset.

Good knowledge of English (written and spoken) is essential. Knowledge of French or Dutch is an asset.

Good written and verbal communication skills.

The ability to communicate simply and concisely on complex subjects.

Mastery of one or more programming languages. Experience with C++, R or Python is a plus.

Constructive, team spirit but able to work autonomously, critical mindset.

Calculer votre temps de trajet
À
Belfius Bank & Insurances
| Karel Rogierplein 11 , 1210 Saint-Josse-ten-Noode
Cette adresse est introuvable.
Aucun itinéraire n'a pu être trouvé entre les deux adresses.
D'autres ont aussi consulté
Ajoutez votre CV
Jobs pour vous vous proposera de meilleurs emplois en fonction de votre éducation, de vos compétences et de votre expérience professionnelle.
Le job a été sauvegardé
Vous pouvez retrouver vos jobs sauvegardés sur la page d'accueil ou dans Mon Jobat.
Pour pouvoir les consulter également sur d'autres appareils, connectez-vous.
Encore 27 jours pour postuler
Exigences
Master (Licence, Université ou Enseignement Supérieur de Type Long)

Néerlandais, Anglais, Français
Offre
Durée indéterminée

Temps plein

Assurance groupe
Chèques-repas
Ordinateur portable
Assurance hospitalisation individuelle
Assurance hospitalisation pour la famille
Intervention dans les frais de deplacement
Saint Nicolas
Eco Cheque
Travail à domicile
Recevoir des jobs par e-mail
Recevez de nouveaux jobs pour 'Gestion de projets - Bruxelles' dans votre boîte mail.