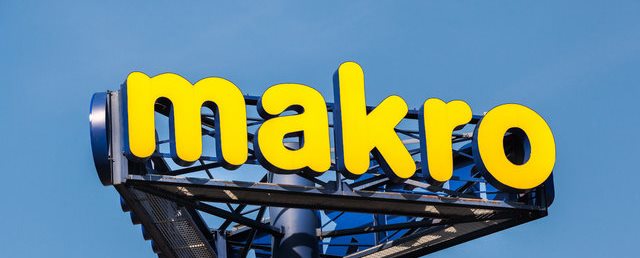 Senior Pricing Analyst
4 days left to apply
Senior Pricing Analyst
Job description
Makro Cash & Carry Belgium is gecertificeerd als Top Employer 2019, dit voor de 14de keer op rij!
In België werken ongeveer 3.000 mensen bij Makro of Metro, verspreid over 17 winkels en ons hoofdkantoor. In Makro is elke particulier welkom en kan hij/zij het grootste aanbod in food en non-food vinden. De winkels van Metro richten zich uitsluitend op professionele klanten in de horeca. Wereldwijd stelt de Metro Group niet minder dan 110.000 collega's tewerk.  
Wat je achtergrond ook is, Makro/Metro biedt je een pak kansen om te groeien. Ons jobaanbod is dan ook enorm gevarieerd. We kijken steeds uit naar medewerkers die met plezier werken in een resultaatgerichte en open cultuur, waarbij de klant centraal staat.
Bij Makro/Metro hechten we veel belang aan de ontwikkeling en betrokkenheid van onze mensen. Onze medewerkers krijgen maximaal de kans om door te groeien. Daarom investeren we permanent in training en ontwikkeling.
Profile
DE JOB…
Je analyseert en bewaakt de correcte uitvoering van de prijsstrategieën voor de sales lines MAKRO, METRO en FSD en dit zowel voor klanten B2C als B2B ten einde optimale marges en een correcte positionering van het product in de markt te bekomen.
Analyse
Je maakt analyses van de prijzen en formuleert gepaste actieplannen om de prijsstrategie te ondersteunen.




Je bepaalt KPI's om het resultaat te meten van de doorgevoerde actieplannen en volgt deze op.

Je maakt business cases voor prijsaanpassingen.

Je analyseert de impact van korting op de totale sales en profit.
Project Management
Je neemt een actieve rol op in de ontwikkeling van cross-departementale projecten gelinkt aan pricing.




Je bent verantwoordelijk voor de planning en opvolging van de pricing projecten. Je monitort de voortgang van projecten en stuurt bij in functie van de te behalen doelstellingen.
Samenwerking
Je neemt deel aan cross-departementale projecten rond pricing, marge en pricing tools.




Je leidt cross-departementale meetings omtrent pricing review.

In samenwerking met Operations en Marketing en zet je interne en externe communicaties op over pricing.

Je bezoekt op regelmatige basis onze stores en concurrenten om een goed beeld te hebben van de huidige markt en trends.
Voortdurende verbetering
Je implementeert verbeteringen om het pricing proces te optimaliseren, o.a.: gegevensverzameling, analyse, rapportering, prijsaanpassingen.




Je ondersteunt het commercial team bij de implementatie en follow-up van het pricing proces, onder andere door het geven van technische informatie en training.

Monitort de performance van de producten en signaleert  tijdig de nood tot herziening van de prijs en marge.
JOUW PROFIEL…
Vereiste (vak)kennis en ervaring
Je hebt minimaal een bachelordiploma in een financiële of economische richting en kan bij voorkeur enige ervaring in een commerciële omgeving voorleggen.

Je hebt een zeer goede kennis van Excel

Je hebt spreekt vlot Nederlands, Frans en Engels



Persoonlijke eigenschappen en competenties
Je kan complexe analyses maken 

Je bent statistisch en wiskundig aangelegd, je hebt oog voor details

Je kan structuur brengen

Je bent een vlotte communicator zowel geschreven als gesproken

Je bent proactief, resultaatsgericht en kan je focus bewaren, ook wanneer verschillende zaken samenkomen

Je blijft steeds bijleren en stelt vragen om onze business beter te begrijpen
MAKRO BIEDT JE…
Glijdende werkuren




Ontplooiingsmogelijkheden binnen een dynamische omgeving

Een aantrekkelijk salaris en een degelijk pakket extralegale voordelen
PLAATS IN DE ORGANISATIE… 
Als Senior Pricing Analyst rapporteer je aan de Head of Pricing and Revenue Management.
Je werkt op het Support Centre in Wommelgem.
More info
https://ars2.equest.com/?response_id=1e380f92ca592ca2c9585d57fefd110d
Apply now
Apply now
The job was saved
You can find your saved jobs on the homepage or in My Jobat.
To view them on other devices as well, just log in.
4 days left to apply
Characteristics
Function type:

Pricing analyst

Sector: Distribution and Retail

Antwerp
Requirements
Professional bachelor (Higher Education Short Type)
Offer
Apply before
Receive new jobs by e-mail