Apply now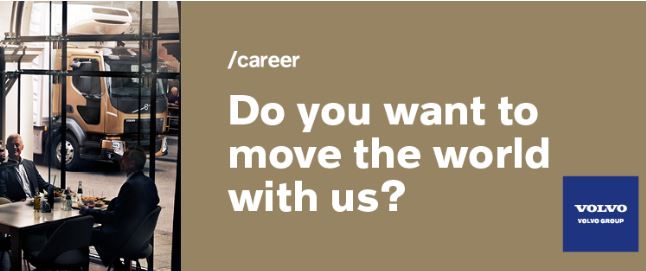 Junior Software Architect
Oostakker
Permanent, Full-time
Published on Jobat.be 13 days ago
Junior Software Architect
Volvo Group Belgium is a part of our Swedish mother company Volvo Group. We are one of the world's leading manufacturers of trucks, busses, construction equipment and marine- and industrial engines. We have facilities in 18 countries and represent our products is more than 190 markets.
Job description
THIS IS US, YOUR NEW COLLEAGUES
You will be joining an experienced team situated in Belgium that is responsible for the development & support of a centrally deployed application. This application is tracking vehicles from ordering until customer handover. The system is developed & maintained by team members both in Belgium as in India and is used in all Volvo Groups Trucks factories throughout the world. And it's currently being rolled out in the Volvo Bus organization. We are also responsible for a Geolocation IoT platform and delivering new services on it.
 
ROLE DESCRIPTION
·Design new micro services and cloud-based architecture, new front ends for a mobile environment and new services on IoT       Thingworx platform
-Take responsibility for designing a robust and easy maintainable system
·Work according to Scrum methodology and Devops
·Create technical analyses with mockups for new requirements
·Actively suggest improvements and take ownership
·Deliver auto testable front and backend
·Support with the installation of new versions and join technical user support
·Join international projects
Profile
ARE YOU THE ONE?
· Starter up to 5 years of development experience
· Java knowledge
· Prefered experience with web-application development: Progressive web application, HTML5 webcomponents (Lit element), Java    REST microservice
· Knowledge of Java frameworks: SpringBoot, SpringData JPA2, ORM Hibernate, QueryDSL
· Knowledge of cloud technologies is an advantage: Openshift cloud environment, Docker
· Knowledge of testing frameworks is an advantage: Junit, Selenium
· Knowledge of relational databases and analyse techniques (both functional & technical)
· Eager to learn and grow, analytical & problem-solving mindset
· Flexible to travel according to business needs
· Complete proficiency in English is a requirement

A PERFECT MATCH
The opportunity to work in a global and dynamic organization with highly skilled colleagues. A working environment that truly believes in customer success, trust, passion, performance and change. Regular opportunities for training and education to develop yourself continuously. Extra days off, a company restaurant, initiatives concerning health and wellbeing. A competitive payment based on your experience & competences that will develop depending on your input and performance.
Offer
LET'S DO THIS!
You will work in a runtime & development team for a Volvo Group global appointed system which develops, maintains, supports & roll outs on all global sites of the Volvo Group. Sharing the responsibility to develop Cloud - Mobile – API and IoT services according to business and industry needs will be an important aspect.
Don't hesitate to apply if you are interested. 
Calculate your travel time
To
Volvo Group Belgium
| Smalleheerweg 31, 9041 Oostakker
This address could not be found.
We could not find a route between the two addresses.
Others also viewed
Add your CV
Jobs for you will suggest better jobs based on your education, skills and work experience.
The job was saved
You can find your saved jobs on the homepage or in My Jobat.
To view them on other devices as well, just log in.
47 days left to apply
Requirements
Master (University or Higher Education Long Type)

Dutch, English
Similar jobs
Receive new 'Concept & analysis' jobs straight to your mailbox.