Apply now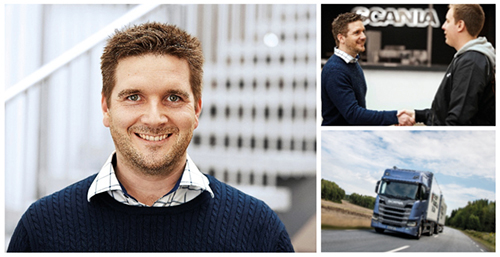 International Trade Coordinator
Oudsbergen
Permanent, Full-time
Published on Jobat.be 1 day ago
International Trade Coordinator
Scania Parts Logistics (SL) is responsible for the distribution of spare parts from suppliers to customers at 1 600 service points globally and providing logistic services to the global Scania retail network. The company operates through different sites globally: Oudsbergen (Belgium), São Paulo (Brazil) and Singapore, South Africa, Mexico together with 7 regional warehouses in Europe.
We are expanding our finance department and looking to add an International trade coordinator (to be a team of three). Within this function you will belong to the Finance department in our main logistical centre in Oudsbergen and report to the Finance Director. The majority of the focus is on our central warehouse in Oudsbergen, but you will also have frequent contacts with our different sites as well as with the compliance department at the HQ in Södertälje, Sweden.
Job description
Within the function of International Trade Coordination (ITC), you are responsible for the development and implementation of policies and procedures for Scania Parts Logistics compliance within import, export, customs regulations and general compliance topics (known consignor, third party data handling, Scania group policies,…) .
To ensure compliance, you are expected to gather information, making sure you have the necessary knowledge and expertise to act as an internal expert for the domains of compliance, customs and trade. You are responsible for drafting work procedures and routines, in function of business requirements. You make sure these procedures are implemented, and create an efficient structure of follow-up and audits. You monitor legal changes and updates closely, and are able to translate these to our organization's needs. You collaborate with Scania customs department and many more Scania functions and external stakeholders such as the BE Customs that are important for efficient and compliant trade flows. More specifically your tasks include:
• Creating, planning and coordinating Scania Parts logistics Information security (ISEC) work
• Promoting information security awareness
• Setting Third Party NDA standards for the organization and ensuring execution
• Supporting and developing our known consignor framework
• Supporting in setting up, managing and improve several compliance topics such as GDPR ,dangerous goods as well as Scania group policies.
Profile
For this job, we are looking for a customer oriented person with a commercial feeling. You are a strong communicator , analytical, accurate and responsible. Process thinking is one of your strengths and you aim for continuous improvement. You are confident in a role which requires teaching/coaching as well as enforcing and have the ability to convince and secure awareness in the organization. You have the ability to express yourself in English and Dutch, both verbally and in writing. You have a bachelor or master degree.
Are you excited to work with us towards delivering the best service? Then please send your application letter and resume to Ellen Dedroog (HR Business Partner via
ellen.dedroog@scania.com
before 25/07/2021.

Calculate your travel time
To
Scania Belgium
| Oudsbergen 3660
This address could not be found.
We could not find a route between the two addresses.
The exact address for this job is not available. The calculated travel time may differ in reality.
Others also viewed
Add your CV
Jobs for you will suggest better jobs based on your education, skills and work experience.
The job was saved
You can find your saved jobs on the homepage or in My Jobat.
To view them on other devices as well, just log in.
38 days left to apply
Receive new 'Executive board & management, Logistics' jobs straight to your mailbox.