Apply now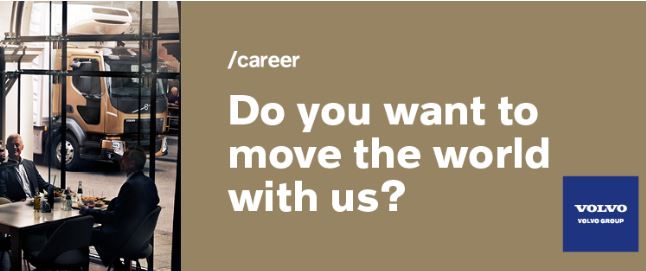 HR Manager Central Distribution Center (Ghent)
Service Market Logistics
Oostakker
Permanent, Full-time
HR Manager Central Distribution Center (Ghent)
Service Market Logistics (SML) is part of Group Trucks Operations. We are an organization of approximately 4000 employees globally in more than 40 locations. Every day, we are delivering world class operational excellence for our customers, based on smart logistics solutions. Our job is to develop, manage and optimize the Service Market supply chain for all Volvo Group brands and JV's. The scope for Service Market Logistics includes Flow Optimization, Inventory Management, Distribution Center operations, Customs & Trade as well as the development of logistics solutions to ensure the highest possible parts availability, delivery precision and quality everywhere in the world. We strive for an innovative and diverse workplace, exercising the Volvo Group values with high focus on customer success.
Job description
THIS IS US, YOUR NEW COLLEAGUES…
 
We are looking for a qualified HR Manager to join our Gent and EU HR extended team consisting of 12 colleagues, located in Gothenburg and Eskilstuna in Sweden and Gent in Belgium. The role as HR Manager in Gent, Belgium is broad and comes with a lot of responsibility and ownership. You will manage a team of 4 direct reports.

 
WHAT DO YOU LOVE?
 


Would others describe you as a passionate HR Manager with a curious and innovative mindset? Do you have a deep understanding of developing people and leading organizational change to improve business results? Are you ready to build employee engagement so that they can bring their best every single day? Would you thrive in a role that gives you the chance to make a real impact in a continuously changing environment? Well then, this opportunity is for you!



Being service minded, proactive and a true team player is crucial to succeed in the role. You will collaborate closely with your HR colleagues and leaders, who will give you a broad understanding of our business. You will be an active member in the Central Distribution Center (DC) management team and report to Director DC Gent and dotted line to Director HR Gent and EU.
 
In your role as HR Manager CDC Gent, you have the responsibility to advise and support the managers in all HR related issues that drive business performance. You will contribute to meeting our business goals, and you will translate business strategies into aligned HR plans and actions, ensuring their delivery in the business.

Your focus will be to:
Drive the best employee experience trough overall management around our HR policies, strategies and roadmap

Drive and provide analyses and recommendations in areas such as: Performance Management, Competence Development, Talent Management, Employee Relations, Workforce Planning, Recruitment and Compensation and Benefits

Build strong relationships with and pro-actively coach, develop and support our leaders in the functions regarding all HR matters on a strategic, tactical and operational level

Act as a change agent to drive a continuous improvement mindset in a culture of high performance and accountability

Ensure that the organization complies with local employment laws and legislations and ensure legal compliance in HR matters in close collaboration with Regional HRBP. Intervene and escalate when needed

Ensure that HR policies and procedures are respecting legal requirements and Volvo Group Values

Support managers in the roll out of organizational initiatives, and promote cross-cultural integration

Secure and develop collaboration with relevant stakeholders at the site

Lead a team of HR business partners and HR administrative support. Secure employee engagement, performance excellence and leadership effectiveness in the DC Gent Human Resources team

Drive LEAN leadership development within DC Gent
You will be a member of Gent DC negotiation team for industrial workers and office workers and you will participate in the labor and relations meeting.
Profile
ARE YOU THE ONE?
In a company that values Customer Success, Trust, Passion, Change and Performance, you hold a strong personal credibility, integrity and creativity. 
You have excellent communication skills and influencing capabilities, with the ability to create trustful relations in a cultural and geographical diverse environment. 
You also possess the necessary skills in coaching and facilitation and you have a good understanding
of interpersonal relations and organizational development.
To be successful in your new role we want you have the following knowledge and experience:
Bachelor's degree in Human Resources or related field or equivalent work experience is required

Proven leadership skills

Relevant and substantial experience in Human Resources

Being an enthusiastic team player with a strong drive to create a positive work environment.

Drive people development and strong interest in the Lean concept

A strategic mindset as well as an eye for details

Demonstrated experience in Belgian social law and have experience in negotiating with unions both industrial workers and office workers. Extensive knowledge of local labor laws

Being present in different for a

Experience from working within operations, manufacturing or similar

A strong understanding of business 

challenges in an international environment

Ability to demonstrate a clear vision, global mindset and successful in people and team development and culture leadership

A strong personal credibility, integrity and creativity. The work includes problem-solving abilities and a good understanding of the business environment

Proven change management experience, ability to create a trustful climate and atmosphere in challenging situations

You have excellent communication skills in Dutch and English, both verbal and written. Other languages are beneficial
Offer
A PERFECT MATCH?
Do you strive to get the best out of people? This could be just the job for you! We cannot promise you an effortless job, but we can promise you skilled colleagues and truly exciting challenges to work with. You will work in a regional environment that provides you with development opportunities, both professionally and personally. We want you to prosper and be happy, because when you succeed, we succeed.
At Service Market Logistics, we are actively working to establish groupings that will take maximum advantage of the strength inherent in differences in knowledge, experience, age, gender and nationality, etc. We find that well-balanced working groups increase group dynamics, creativity and new approaches to solutions.
LET'S DO THIS!
Are you ready to learn and develop with us?
 Get inspired by our film about the Gent & EU region and get to know your future environment!
?
https://www.youtube.com/watch?v=FqPBE-j2VhA

https://www.youtube.com/watch?v=3f3cIazOFLk
Calculate your travel time
To
Volvo Group Belgium
| Smalleheerweg 31, 9041 Oostakker
This address could not be found.
We could not find a route between the two addresses.
Others also viewed
The job was saved
You can find your saved jobs on the homepage or in My Jobat.
To view them on other devices as well, just log in.
Requirements
Master (University or Higher Education Long Type)

At least 2 years experience
Dutch, English
Receive new 'Human resources' jobs in Eastern Flanders straight to your mailbox.